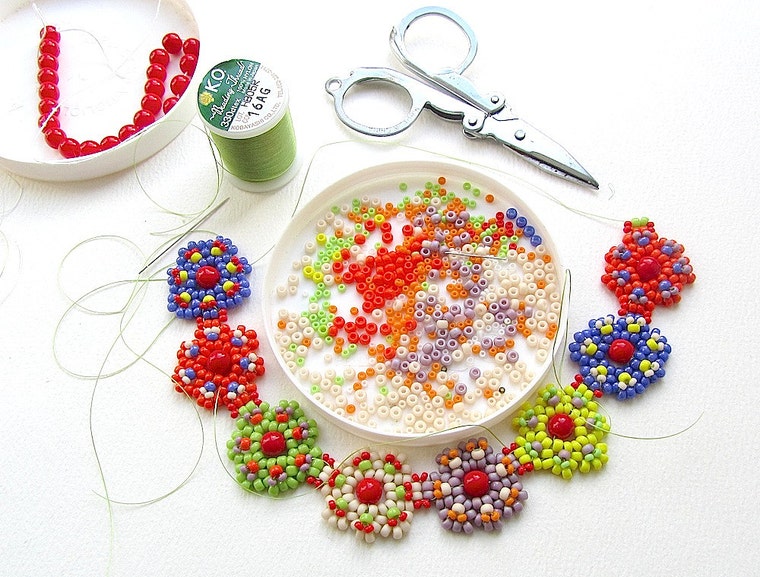 Name: Lynn Davy
Shop Name: Nemeton
Shop Link:
http://nemeton.etsy.com/
Located in: Wimborne
Sells:

Beadwoven and strung jewellery, beading kits and beading pattern

s
Maker's Story: I've been playing with beads since the age of ten and am still fascinated by what they can do. Inspiration comes from many sources but particularly the colours and textures of the Dorset

countryside. I've recently written a book about how to make bead jewellery (Learn to Make Bead Jewellery, Search Press, 2015) which I hope will introduce others to the joy of beads!
I just love to make things out of beads, all kinds of beads! My beadwork is very individual, each piece is different, and it's such fun seeing my creations find new homes and travel to parts of the world where I've never been myself.

I design a lot of kits and patterns too, to enable other beaders to have the same sort of fun that I do, combining colours and shapes to make something unique. I never get tired of seeing how each pattern turns out for each maker - very often my customers come up with a colour combination or design tweak that I'd never have thought of. Each of us is unique and that's something to be celebrated!

I work from home, in a lovely light upstairs room full of pictures, books, sentimental memorabilia... and beads. It looks like chaos but I do know where (almost) everything is! It inspires me to have lots of beautiful things around me. I am very fortunate.
Dorset Team Christmas Fair: Lynn will be selling her beautiful jewellery at the Dorset Team Christmas Fair on Saturday 3rd December at the Allendale Centre in Wimborne.
Please come along, meet Lynn and our other makers and sellers.
Doors open at 10am and close at 4pm and it is free entry.
For more information please see our Facebook event page or blog post